1971 Ford F-250 F26 Highboy 4×4 American Pick Up Truck V8 4spd F100 F150 Chevy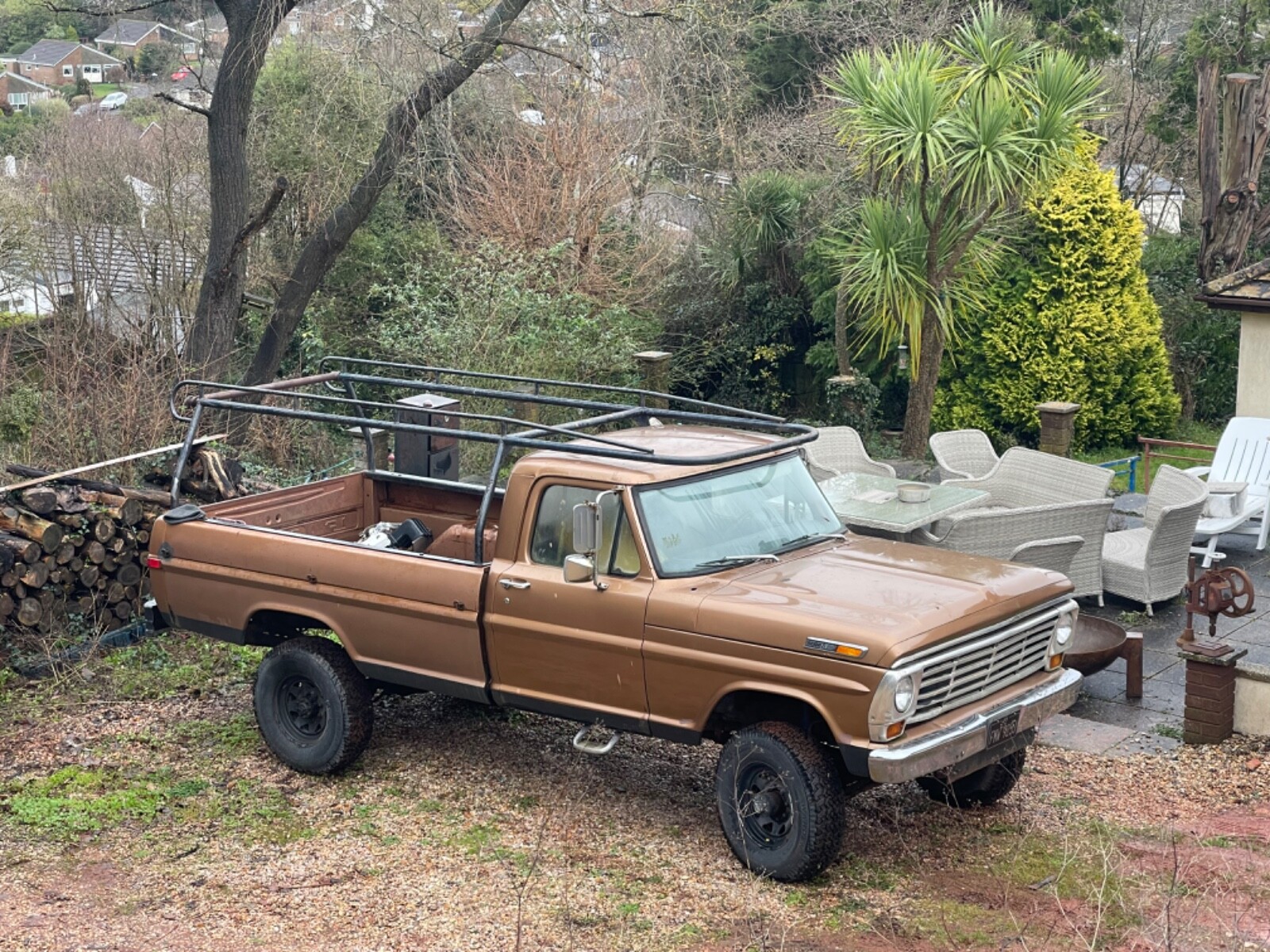 Been my personal truck for a couple of years but now might be a time to let her go.
Its been uk registered and is tax and mot exempt.
The F series Trucks have gained a massive following over the last few years and sadly their current prices have reflected this, with restored or modified 4×4 trucks hitting 6 digits https://bringatrailer.com/listing/1967-ford-f-250-14/ the F26 Factory 4×4 or Highboy as they have been nicknamed is leading the pack in the sought after stakes.
This truck is a 1971 Bumpside Highboy, its partial VIN reads as F26YRL, that denotes the following
F26 = F-250 4WD. Y is the engine = 360 cid 8 cylinder, L is its build factory, this one was built at Michigan Truck.
What is a Highboy. This in depth article explains it well https://www.motortrend.com/features/what-is-a-ford-highboy/
Ok my particular one, it starts on the button, engine sounds sweet and everything works, however as i always over describe what I am selling, it still needs work (basically like any of these old unrestored trucks do but I want the buyer to be aware of what they buying and more so to be happy)
The brakes are soft and can pull when cold, the "e" brake is not great, I would say it deserves a full service and check over as I have only every kept on top of what was needing to be done to be able to use it on local short journeys.
I have replaced numerous parts on it, the last being a new battery and complete front prop shaft.
Its not a rusty truck but it does have some rust, not structural and could easily be left but personally to preserve it I would say it deserves a good clean up the underside, maybe even a light media blast and then some high end wax or coating protection especially if the truck is going to be enjoyed off road.
Mechanically the 360 V8 With 4 Speed Manual Gearbox along with Reduction Boxes (2H 4H and 4L) is a fun drive, more a Land Rover than a Range Rover type of way.
It's also has locking front hubs !!