1972 Ford Capri Mk1
Click Here to View on eBay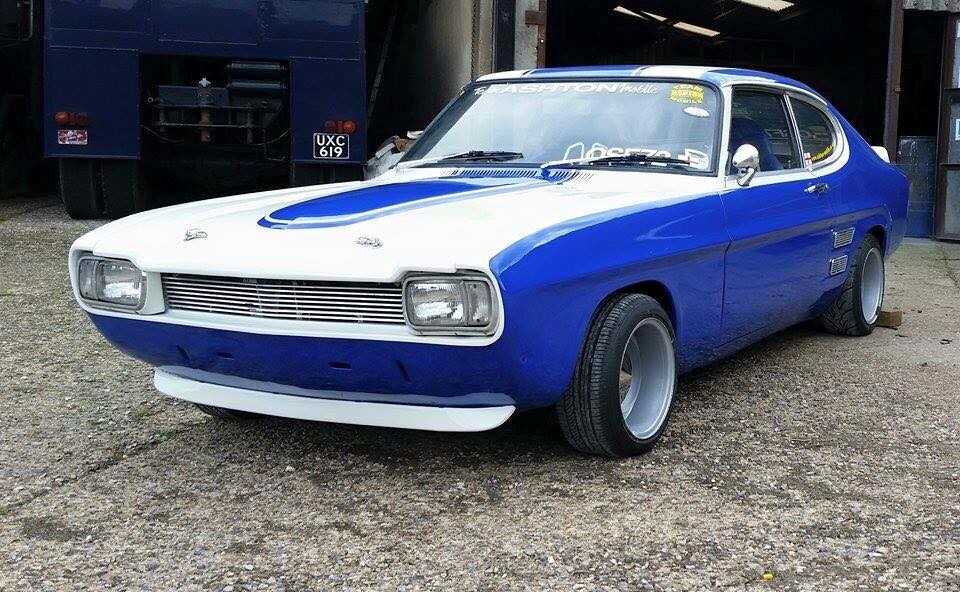 1972 Ford Capri Mk1
Broadspeed homage
Colin Ashton built 2.1 litre Pinto engine covered 1250 miles
218bhp
Magazine featured
Old ford drag challenge event winner at Retro Ford
Thousands of £ spent
Many original items come with the sale
The Ford Capri seems to be one of those cars that is woven into our classic car culture. Virtually everybody seems to have a connection to a Capri. What unites them are the warm and familiar emotions they evoke.
Ford really struck gold with the Capri. It is possibly the ultimate in affordable sports coupes for the 70's and 80's.
This extraordinary MK1, pre-facelift Capri goes one stage better. It is an homage, of sorts, to the legendary Broadspeed Capris. We don't believe you'll find another Capri quite like this one.
A one off build
Magazine featured
Raced and won at Santa Pod
Featured on the Capri Mk1 Owners club website as part of 50 Anniversary Celebrations at Dunton
Background
Our vendor, Barry, had been around the Fast Ford and Drag Racing scene for some time. This was via a friendship with hugely knowledgeable and immensely respected engine builder/tuner, Colin Ashton.
About 2105, Colin advised him a white Mk1 Capri was up for sale, Barry snapped it up. He told us, "he'd got the bug". The Capri had already been lowered via blocks and gas shocks but Barry had his plans for the Capri. As with most projects, this one progressed in sensible stages.
History
The heart beat of this Capri is the stunning heart transplant it has had. As you can see from the images, it looks stunning.
In the first 18 months;
The cylinder was re-worked
The 2.0 Pinto engine was fitted new blue white seats to match paintwork and line lock for burn outs.
A limited slip 3J Driveline diff was fitted
Along with hardened performance half shafts to be able to handle the output.
Barry told us, "The Capri competed well and I came first in 2015 of the Round Four Retro Show and Third in the Old Skool Ford Drag Challenge meetings. This spurred me on to then have a full race engine built by Colin and get the car resprayed with the fibre glass rear and front like the Broadspeed Capris to improve its looks".
The project and upgrades have continued and these are the highlights over the last five years;
The engine was re-worked by Colin Ashton and his team in to a 2.1 Pinto unit
It is "full race spec"
Fully lightened and balanced
Forged 93mm pistons
Steel con rods
High pressure oil pump
Low resistance water pump
5.6 kg flywheel
Race road clutch
Full race head with 45.8 inlet valves 38.1 exhaust valves
Single collet valves
Custom profiled race cam
Bested ignition with MSD 2 step limiter (Check what 'Bested is, because I'm sure about his terminology)
Bespoke custom exhaust manifold.
Stainless steel system to rear
Twin choke Webbers 45s fitted for road use
Was on 48 s when it made 218 bhp after being run in 2016.
Four speed gear box now fitted also for road use with quick shift lever
Single piece propshaft
3J Driveline heavy duty half shafts
Wildwood 4 pot callipers
Grooved discs on front Sierra callipers
Peugeot 106 calipers on rear
Hydraulic hand brake
Front breaks on line lock
Custom alloy radiator with electric fan with header tank
Facet electric fuel pump
Custom Sunco race rev counter with shift light
Phew! And breathe…
All that, culminated in the Capri running a standing start 1/4 mile in 13.54 secs with a speed of 96.83 mph on its 48 Webbers in 2016. As if we need to say it, that adds up to some car!
Interior
The interior, as you can see is a mixture of old and new and period. Essentially it works. Just not if you're a rear seat passenger, because you end up crouched on the floor!
We have the original dash pad and two clocks. Coupled with two non-original, but very smart front seats. The driver and 'co-pilot' are anchored by a full harness. There are door pads and window winders.
The sexy bits are the handbrake, shifter and rev counter. It al blends well as a fast (very fast) useable road car or 'run-what-you-brung' drag racer. Or to go to shows its road registered .You choose.
Outside
A very smart Broadspeed tribute Blue & White colour scheme
Fibre glass bonnet
Fibre glass boot with rear tail
Front air scoop
As with the interior, the outside is marvellous blend. It is unmistakably a Mk1 Capri, but with a difference. That difference has not only made it a show stopper on the streets but a Show Winner on the Strip and at Shows. The magazine features are just the icing on lovely cake. We've never seen anything like this on Bake-Off though.
Barry tells us he has various sets of wheels that he will include in the sale. Bonus!
Additional Info
Barry added a little context for bidders, we'll let him do the talking;
"After Colin and Joe sent their car over to Malta to race, from 2017 I detuned the carbs to 45s for road use and fitted a 5 speed box.
I have taken it to shows and meets at Ace Cafe in London I also went to FORDS TEST TRACK at Dunton for a 50 year Capri Show on the test track. I attach some photos.
Then covid came along. Things slowed down (isn't that the truth!). I recently bought a Capri Mk3 2.8 Injection Special with low mileage. So it's time to let someone become the new custodian of the Mk1 and use it as it should be
I hope this helps. I will be getting car out of storage next week to give it a service check it over and will take pics of inside boot and cockpit under bonnet etc the door shuts and usual rust areas so people can see its condition I can do a short walk around video and the of the engine running with its lovely note from the stainless pipes if it helps.
Yes. It does. The fab pics along with the video are in the Gallery.
Our View
When's the last time you saw a Mk1 Capri like this? We cannot remember either.
These enthusiast-lusted after treasures rarely surface. When they do, they don't hang around. Not only is this a quickly appreciating Fast Ford. It is a very, very fast Ford.
This is a rare opportunity to own a very sought after, one-off Mk1 Capri.
Built by one of the most widely respected builders on the scene
A rich history
Race and Show Wins
Magazine featured
Best of all. It has to go. And the reserve is incredibly reasonable. Don't let this slip away.
Barry's information
The ford capri is a mk 1 it was originally in white previous owner had lowered car by 2 inches with blocks on rear and adjustable gas shocks on front.
Since a bought it around 2015 I had known Colin & Joe Ashton for some years and went and watched them at Santa pod the year before racing with others in the Old stool ford rage challenge which had angles 110e escorts mk 1/ 2 racing I got the bug so when they found a customer wanting to sell his mk 1 I jumped at it.
In the first 18months I had the head reworked by Colin with its standard engine 2.0 pinto fitted new seats line lock and a limited slip diff 3 J and hardened half shafts.
It competed well and I came first in 2015 round four retro show meet which spurred me on to then have a full race engine built by Colin and get the car resprayed with the fibre glass rear and front to improve its looks.
The list below is about the additional items ive had done over last 5 years :
Engine is a 2.1 pinto built by Colin Ashton Full race spec fully lightened and balanced, forged 93mm pistons, steel con rods, high pressure oil pump, low resistance water pump.
5.6 kg flywheel, race road clutch, Full race head with 45.8 inlet valves 38.1 exhaust valves single collects, custom race cam, bested ignition with MSD 2 step limiter, custom exhaust manifold.
New breaks front and rear, set of alloy wheels , break servo taken apart and overhauled new piston.
car is in secure dry storage so to arrange viewing need to collect and then meet call for info and make reasonable offer Barry
Listing expires: 04-12-2022