1977 Ford Escort Mk2 GL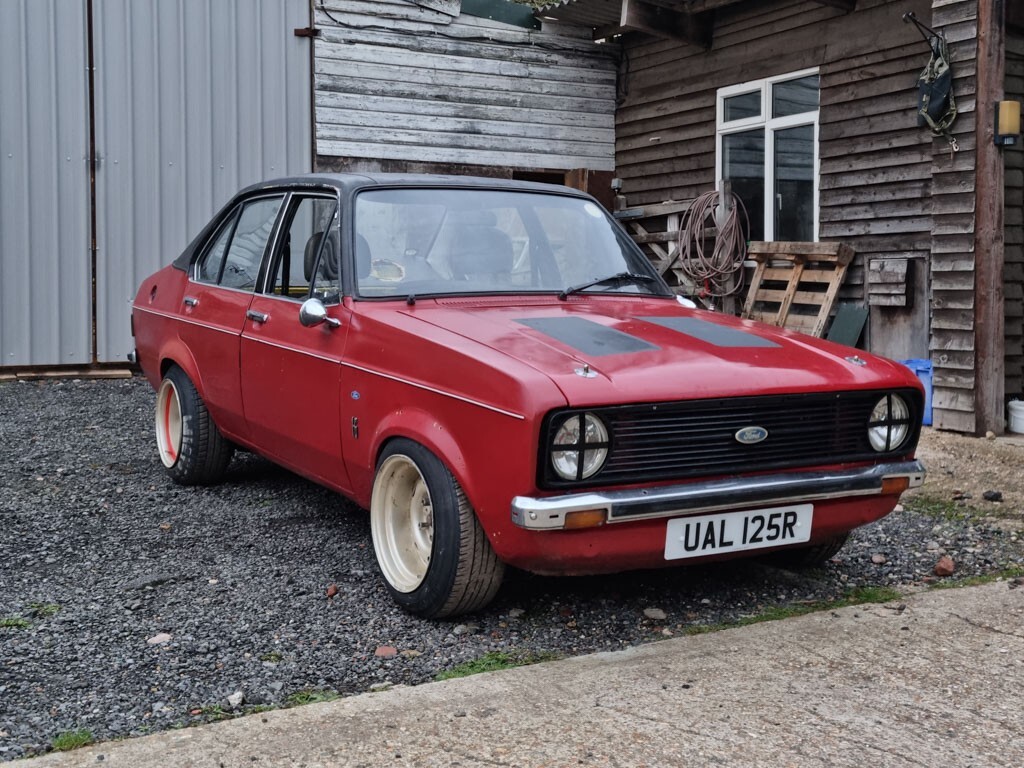 Ford Escort Mk2 GL 1977 RHD 4 Door 2.0 Pinto
This was imported from SA and is fully UK registered with an age related plate
its tax/mot exempt.
Bodywork/Exterior
Car has obviously been resprayed in red, was originally signal yellow.
Vinyl roof needs repair/replacing as it has some stretch tears.
As usual it will need a drivers side floor repair and wheel wells.
We can see that previously it had plastic arches as you can see the screw holes.
Engine bay is solid and clean although they have painted it grey, heater bowl is dented though (presume from fitting the pinto). Door shuts are solid, chassis rails front to back are solid too.
Overall the shell is pretty good in our opinion. Obviously the car needs tidying but isn't too bad of a project.
Has banded steels running on stretched tyres.
Bonnet has got pins as you can see.
Mechanics
2.0 205 block pinto engine.
Coil overs on the front.
Lowering blocks on the rear.
We was told they was in the process of putting back in the gearbox as flywheel/clutch had been replaced. Comes with Type 9 gearbox , Propshaft etc. just needs refitting
Car is running really low in the front so suspension needs looking at/ presume the combo of smaller wheels/raising the front will fix it?
Interior
The interior is pretty rough but door cards, dashboard etc are okay. Not sure what seats have been fitted in the front but there ok rear seats are missing but we have some that need refurbing which you can have.
Our overall impression is that its not too bad of a project for a 4dr and if you can actually decide on a colour (unlike the previous owner) preferably put it back to its original colour which would be fantastic then its a good starting point being a 40 year old escort but at least its not got velvet tiger print interior(you know what we mean with these imports!)
Viewing is highly recommended.
A deposit will secure the car.