1977 Unique MGB Roadster Factory Development & Test Car Amazing History LHD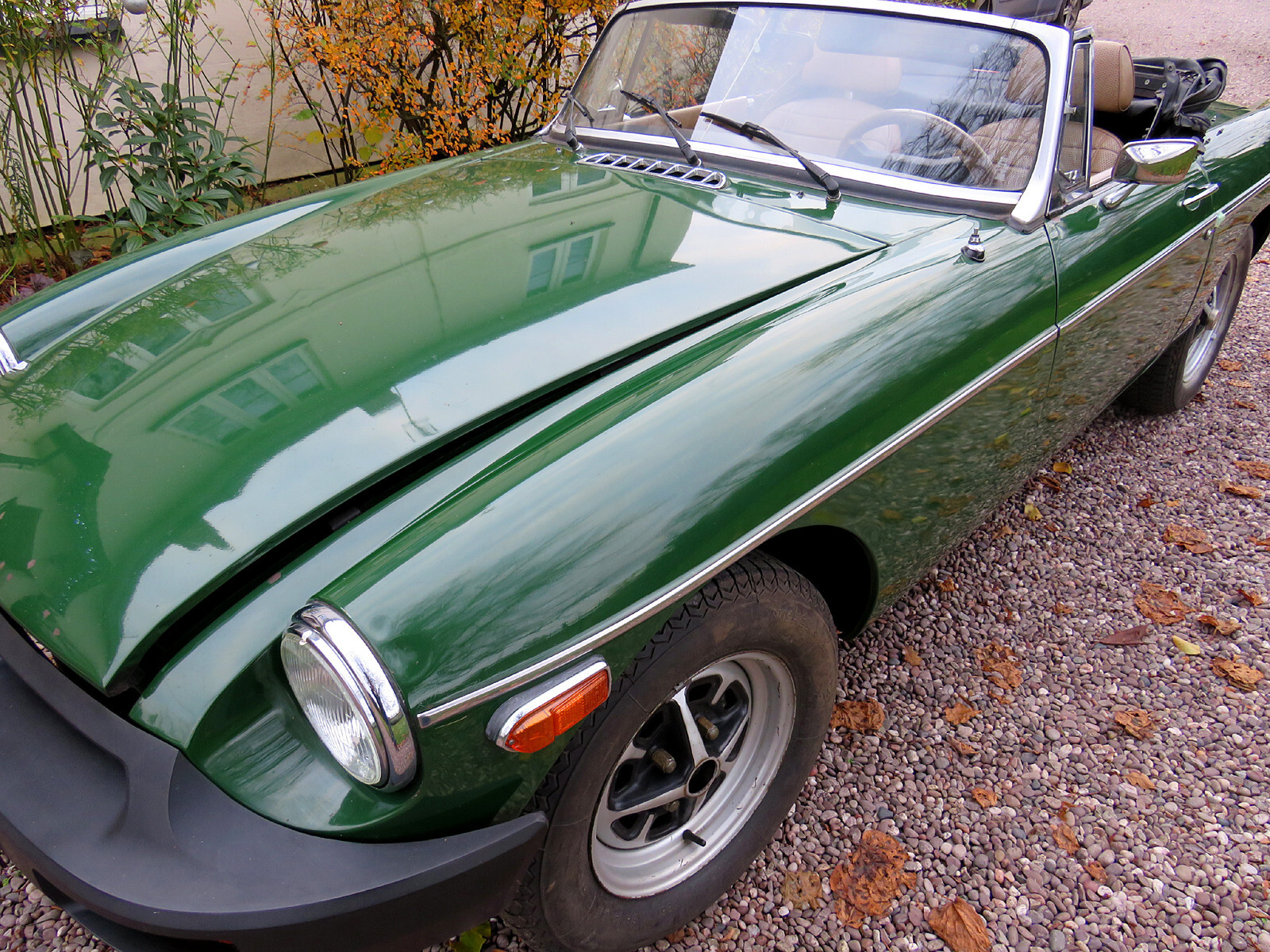 1977 MGB Roadster – Factory BL/MG Development & test car No.6.
V5C, history, 18,150 miles only.
Reluctantly I've decided to part with this unique low mileage MGB, a car I've owned for over 6 years and one with an amazing history. I'm only selling this as a friend has decided to sell a vehicle I've coveted for many years, and in order to fit it in the garage, something here needs to find a new home – this MG should really be in a museum or an MG collection. I'm still very much in two minds about letting this go so there is a fair reserve. If it doesn't meet the reserve but is close then I may offer it to the high bidder at the final bid figure.
It has just 18,150 miles on the clock (around 15k of which the documents show was with British Leyland on test, so it has only covered just over 3,000 miles in the last 42 years post-BL). This late-1977 car is on a 1978 "T" registration as I believe it was driven on trade plates for the first few months of use.
I'm only the second registered owner after BL:
British Leyland -> British Leyland's company secretary -> myself
Documents & testing history.
I have the modern V5C in my name, and the older V5 which states the company secretary's name, and the previous owner as BL Cars Ltd of Longbridge, Birmingham.
There is also a fascinating journal of the test work that the car was put to which I'll cover in more detail, plus old handbooks, factory manuals, the original build card that would have followed the car down the Abingdon production line (these would normally have not left the factory I believe), the service passport, and a letter I received back from the now-retired BL company secretary after I wrote to him, confirming the provenance and adding some extra detail.
The test journal created by the development team describes the car in detail, chassis number, spec, key numbers etc, then documents the many parts that were trialled on this car prior to changes being made on the production line. I believe it was also used in emissions development work undertaken on cars destined for the US, Federal, market. This LHD MGB was destined to go to America but was pulled from the line and allocated to the development team. Every entry in the journal is accompanied by the car's mileage at the time. It describes all manner of test work, both at the factory's Gaydon test track, and other locations such as the test facility at MIRA (dyno tests etc), Longbridge, Cowley, Lucas, Pirelli, Champion (spark plugs), and Aley Bars to try out a proposed roll-over bar, so it really did get around.
The car has what looks like a padded Rover SD1 style steering wheel fitted. This is referred to in the journal, date 19th Jan 1979 – "Mileage 2,246. Special 14" steering wheel with large dia soft rim fitted, [by] A. Moon". Which is why I left it fitted and it should remain fitted, being just one part of this interesting car's unique documented story. There are clues as to the test work done with the car under the bonnet, the accelerator pedal has been modified, there are notes stuck to the inside of the glovebox lid still, and so on. I'm sure there's more to discover, perhaps in the archives of the British Motor Museum at Gaydon where so many BL car records are stored. A few test cars escaped the factory once MGB production ended but I doubt any of the others have this documented history and verified low mileage.
As mentioned, this is a Federal-spec car, and as a result has some interesting differences compared to UK cars. The dash layout is much better-looking in my opinion. There are extra side marker lights, and three (rather than the usual two) windscreen wipers. The rear lamp lenses are also different (the UK cars have the indicators at the top).
Mechanicals.
The previous owner removed the USA-spec Stromberg carb and fitted twin UK-spec SU HIF carbs instead, much of the emissions gear was also removed (it's all boxed up and with the car). The brakes were also gone through (new servo, master cyl, calipers, silicone fluid etc etc) so they work well. There's a tubular exhaust manifold, and a stainless exhaust (cat removed).
Thanks to its low mileage and regular servicing while in the devt team at Gaydon, the engine sounds incredibly healthy, no knocks, rattles or smoke, it sounds really smooth. Everything about it feels very taut, no slop in the steering etc. I fitted a new battery a few months back, plus new engine mounts. I've not had it on the road as yet (that was planned for next Spring), but even just driving it up and down the drive it feels like it has a lot of poke. A few months ago a newly-refurb'd set of SU carbs were installed and it runs so much better now, these are the previous type which are much easier to work on. The test journal confirms various parts were replaced during its time with MG/BL, including an overhauled (non OD) gearbox at around 13k miles. Mechanically it appears to be in good order.
Body & paint.
The body has not been restored, there has been no welding done, and the paint is the original from 1977. It saw very little use once MGB production had ended and the car passed to the BL company (finance) secretary, hence the condition. There are a few marks here and there (please see the photos) as you'd expect after 45 years (most of which was spent stored in garages), and a couple of thumb-sized dings above one headlamp that would panel beat out without damaging the paint. The sills, wings, floors, boot floor and the rest are all original, so no MOT-issue patchwork quilt or lashings of gloopy underseal underneath to deal with. I recently re-instated the correct and original metal numberplates that date back to when it was new. The photos were all taken yesterday (I forgot to fully close the bonnet first!).
I doubt many MGBs are this sound and original, the castle sections are solid, same for the spring hangers. I've tried to photograph the underside to show it as best I can, the original body-colour underseal is still much in evidence. Bar a few small blebs on the n/s back wing there is no rust on the body at all. My plan was to have these cosmetics tidied and have a few localised areas of paintwork touched in (there's some brush-on primer on top of one door to do), but leave the majority of the paintwork as it left the factory, marks and all, to keep it as original as possible. I also wanted to clean the underside then coat it with a clear anti-rust product to help preserve it.
The soft-top hood material is tatty and well past its sell-by-date but there's a new hood that goes with the car. The 1977-dated hood cover is in the boot. The footwell carpets could do with replacing. The floors underneath them though are like new. Overall, bar the odd blemish and a few age-related scuffs/scratches, this MGB has survived really well. While there are plenty of MGBs around still, not many in this country still have their original spot welds on the rear arches, sills etc etc.
The plan was to continue fettling over the winter and put it on the road in the Spring, once the weather improves. There are very few jobs still to do in order for it to return to the road – eg investigate the fuel gauge – it was working but now it's stopped, probably a dirty connection somewhere or maybe the sender/float is playing up. I was also going to get the soft-top cover swapped over, and have the paint cosmetics rectified as necessary. With those done I think it'd be ready for a few local test drives just to let everything settle in.
With a little further TLC (cosmetics really), this will be one of the most original MGBs out there, with a unique and documented history like no other and a very low mileage still, most of which was accrued while still in the factory's ownership.
Please bid what it's worth to you (I'd prefer not to reveal the reserve, but it's realistic and in line with typical values for a rubber bumper B in this condition), and if it meets the reserve then it can go, although I'm still not entirely sure it's the right decision. My missus doesn't really like it so I said I'd try advertising it and see what happens. If it stays I'll not be too upset…!
I've not yet tried it down the road. It hasn't been on the road for some years, and it hasn't been tested fully other than moving it in and out of the garage, so it'll need collecting from Cheshire on a transporter or trailer. No driving it away. Payment is bank transfer or cash on collection only please. Payment strictly within 7 days of auction end, and contact from the winning bidder within 24hrs of auction end is requested. Collection within a couple of weeks please unless otherwise arranged. No warranties or guarantees, sold as is requiring some work to finish, ie a light project. Any questions please ask prior to bidding, not after.
This is a very reluctant private sale so no messers please. Thanks.