MERCEDES 350sl 1974 CLASSIC ~ OWNED FOR 30 + YEARS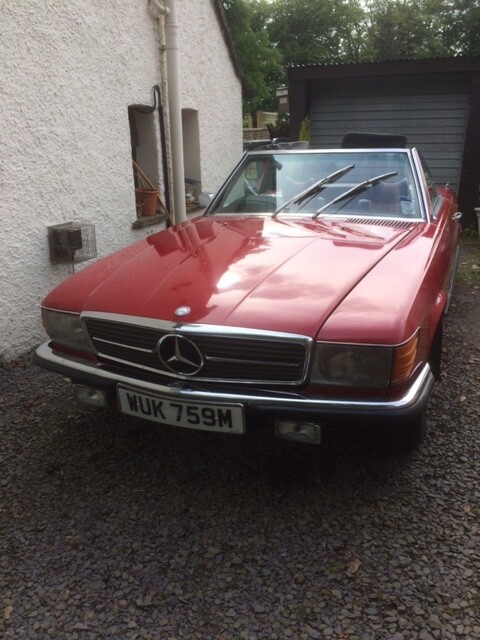 (MILEAGE IS 97199)
I HAVE FOR SALE MY MERCEDES 350 SL 1974 – ITS BEEN IN THE FAMILY FOR IN EXCESS OF 30 + YEARS..
THE FOLLOWING LIST IS WHAT I HAVE REPLACED.
FIRST … 2 NEW SILLS – COMPLETE REAR PANEL – PARTIAL BOOT FLOOR- PARTIAL O/S / N/S FOOTWELLS – BULKHEAD
PARTIAL REAR INNER WINGS – PARTIAL FRONT INNER WINGS – 2 BOX SECTIONS BOTH SIDES – RE-PLATED LOWER EDGE BOOT LID – NEW LOWER REAR WING RIBBED PANELS – ALL OF WHICH WERE WAX OILED – IT HAS NEW PUMP & FILTER.
ON COMPLETION OF ALL OF THE ABOVE – THE NEXT 10 YEARS IT WAS HARDLY USED – AND CAME TO A HALT WITH FUEL STARVATION……SO SPENT THE NEXT 15 YEARS IN A DRY GARAGE.
RECENTLY BEEN TO SL SPECIALIST TO REFURB REAR BRAKE CALLIPERS. IT DOES NEED A BRAKE SERVO..[AVAILABLE AT CANNASTATT CLASSIC MERCEDES PARTS]. ( HENCE NEEDING TO GO ON A TRAILER )
I HAVE RECENTLY REPLACE THE CAR WITH NEW H T LEADS AND A DISTRIBUTOR CAP…( SEE PHOTO)
PICTURES OF THE HARD TOP ~ PRESENTLY IN THE GARAGE….I HAVE SHOWN ON THE PHOTOS WHERE THE MOST ATTENTION IS NEEDED TO THE BODYWORK….WITH THE FOLLOWING COMMENTS BELOW.
THERE IS SOME BLISTERING – THE WORST BEING O/S/F WING – THIS WILL PROBABLY NEED…